Online & Self-Paced Clinical Evaluation for Medical Devices Course
★★★★★
Overview
This online course will offer an interactive overview of Clinical Data Evaluation for Medical Devices & MEDDEV 2.7/1.
In 2016, MEDDEV 2.7/1 rev 4 was published. This bought more stringent requirements for complying with clinical data evaluation to comply with medical device regulations. These requirements were not well understood by industry, and with the looming Medical Device Regulation, i has never been more imperative that you get clinical data right.
We will give you the necessary skills to ensure all the requirements of the law are met and provide an  insight into how the clinical evaluation is integrated with risk management, post-market surveillance, the periodic safety update report, the summary of safety and clinical performance, trending and the CAPA system.
---
Course Snapshot
Course Duration:

8 Hours

Format

Online & Self-Paced Course

Accreditation

This course will be certified by Comply Guru

Delivery Options & Discounts

Online & Self-Paced Only
Discounts Available for 10+ Licenses

Price

Not Yet Available

Fee Includes

Course Access for 90 days
Virtual Instructor Assistance – Phone & Email Support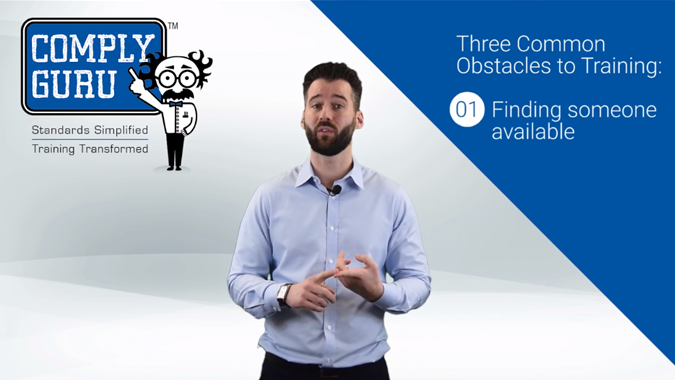 Finally, an industry-leading online & blended training solution for ISO Standards, Quality Auditing & Medical Device Training!
Comply Guru LLC, based in Chicago, IL, offers a growing portfolio online & blended training courses on various ISO Standards, Quality Auditing and Medical Device Regulations to enable its Learners to get the knowledge and skills they need from home, work or anywhere!
The following topics will be covered on this course:

Introduction to MEDDEV 2.7/1 rev 4
PMCF
Planning
Data analysis
Data appraisal
Data identification
Regulation intentions
Clinical investigations
Post-Market Surveillance
This course is fully certified by Comply Guru™
In order to successfully complete the course, each Learner will need to obtain a grade of 70% or higher in the final examination. Successful completion will entitle each Learner to receive a certificate of completion.
This course would be targeted at:
Quality Engineers
Quality Managers
Regulatory Professionals
Clinical Data Evaluators
Clinical Sponsors
In order to successfully complete this online course, each Learner will need to:
Complete the online course modules and obtain 70% or higher in the final assessment (MCQ-based Assessment)
E-Learning System Requirements
The below are the recommended requirements for each Learner in wishing to complete any of our online training courses or modules. In our experience, Workplace IT environments' internal configurations and available software can vary (new or old), and there may be various limitations or other restrictions in place, and as such, the functionality of any Learning Management System (LMS)  may be impacted, restricted and may not perform well.
Recommended Operating Systems
Windows 7/10, Mac OSX Sierra, iPad IOS10
Mobile Devices
Comply Guru's LMS is not available on a mobile app at this time. We recommend using a web browser on a mobile device in completing any online modules. However, if completing any final graded assessment, we recommend completing via a desktop browser.
Internet Speed
We recommend using an internet connection of 256Kbit/sec or faster that will ensure that you can view videos and the online content
Recommended Internet Browsers
Google Chrome 32 bit version 50 or later
Safari 10 or later
Important Note:
add-ons and toolbars can affect any browsers performance. MS Internet Explorer or Edge is
not
recommended as its not compatible with the LMS and the course functionality will not work properly.
Recommended Settings
We recommend that the following settings are enabled:
Cookies
Pop-ups (in both Internet Browser and security software)
JavaScript
Plugins
Latest Version of Adobe Flash Player
Latest Version of Adobe Acrobat Reader
To view all resources made available within our LMS, you will probably need Microsoft Office (Word, Excel, PowerPoint) or an equivalent (i.e Open Office, Viewer) installed.
Some Companies that have used Comply Guru™
The Numbers - How We Are Doing
100%

Our Pass Rate

100%

Would

Recommend Comply Guru

99%

Gave us 4/5 Stars or

higher Overall Training Experience

95%

Would

Recommend Online or Blended Training

over Classroom Training
Want to learn more? Get in touch.
Would you like to know more about our service? We have a dedicated sales team who would be happy to answer any questions that you may have.