Blended ISO 13485:2016 Internal Auditor Training | CQI, IRCA & Exemplar Global Certified
★★★★★
(21 Reviews, Click to view)
Overview
This CQI, IRCA and Exemplar Global Certified Blended ISO 13485:2016 Internal Auditor Training Course (online, self-paced & virtual classroom) is ideal for anyone that has a good understanding of Quality Management Systems (QMS) and the requirements of ISO 13485:2016 and wants to gain an in-depth understanding of the process for performing internal audits of part of their QMS
Did you know? This course is delivered both online (self-paced) & in a virtual classroom with a Live Instructor. Each learner must complete a 6hrs online, self-paced training before attending a virtual classroom-based 1-day skills-based training session. The major benefit to this approach is that it offers each Learner the flexibility to learn at their own pace and reduce the overall time spent in ANY type of classroom!
Request a free demo today to see if our training is for you!
---
Course Snapshot
Course Duration:

16 Hours

Format

Blended Course (6hrs Online & Self-Paced + 1-day Virtual Classroom)

Accreditation

CQI & IRCA Certified Course (No. 2286)
PLUS Exemplar Global Certified Course

Delivery Options & Discounts

Available on select public dates & for in-house training for groups of 5+.
Multi-Person Discount: Book 3, get a 4th Place Free (Same Course & Dates Apply)

Price

895.00

Fee Includes


Learning Anytime, Anywhere with Self-Paced & Virtual Learning
CQI & IRCA (No. 2286) & Exemplar Global Certified Course
Early Bird Discounting Available:
Register & Pay 45 days in advance and save $ 50
Discounts cannot be combined with any other offer.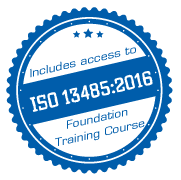 Includes Online ISO 13485:2016 Foundation [+ BONUS Course]
At no additional cost, each Learner will receive a complimentary license for our Online ISO 13485:2016 Foundation Course (8hrs) that focuses on the core ISO 13485:2016 requirements and other key prior learning topics! This online foundation is included to ensure each Learner is well prepared, meets all the prior learning requirements & gets the most out of their training!
Part 1 = Modules 0 - 5 (Online & Self-Paced)

In order to attend this training, each Learner must successfully complete the Online ISO 13485:2016 Internal Auditor Knowledge & Theory Course (6hrs) which consists of 5 modules (online).

Module 6 - Course Introduction (Virtual Workshop)

In this module, an introduction to the classroom element of the blended course will be provided. This includes important information regarding the course content & learning objectives, duration, assessment methodology & training delivery.

Module 7 - Planning the Audit (Virtual Workshop)

In this module we will explore the key steps that are required to plan the audit using a risk-based approach. We will also practice the skills required to prepare the necessary documents for the audit including the audit checklist.

Module 8 - Conducting the Audit (Virtual Workshop)

In this module we will practice the skills required to effectively conduct an audit using a sample of QMS documentation. A variety of audit methods will be used including interview, document review and data analysis.

Module 9 - Report, Close and Follow-Up the Audit (Virtual Workshop)

In this module we will practice the skills required for conducting the closing meeting, preparing the audit report and verifying that actions taken to address audit findings were effective.

This course is fully certified by CQI & IRCA (Course No. 2286)

This course is also Exemplar Global Certified.
In order to successfully complete the course, each Learner will need to obtain a grade of 70% or higher in the online examination (pre-Virtual Classroom), plus attend 100% of the virtual classroom sessions. Successful completion will entitle each Learner to receive a dual-accreditation Certificate of Achievement.
Comply Guru are proud to announce that we have been granted approval by CQI & IRCA to offer virtual training – on our approved blended training courses.
What is Virtual Classroom Training?
This means that for the "classroom" portion of the training, we can offer virtual training as an option for those that prefer to complete their training via a virtual classroom with a Live Instructor.
Virtual training is an alternative format to complete your training – but it will remain highly interactive & collaborative – the same as it would in a traditional classroom environment.
The virtual classroom format will involve shorter "live" sessions with an Instructor on the training days – including regular breaks & interactive assignments (individual & team-based work) for an enjoyable & engaging learning experience.
Is the course still certified?
Yes, the course is still certified and all Learners who successfully complete the full program will receive a CQI & IRCA Certificate of Achievement.
What do you need to participate?
To participate in the virtual training sessions, you will need:
Laptop or desktop computer (Note: A tablet or mobile device is not suitable for this training)
Webcam – Built-in or USB plug-in
Speakers and a microphone – Built-in or USB plug-in. We strongly recommend a headset if you have this available
Internet connection – Minimum of 1.0Mbps
How will Comply Guru help you prepare in advance?
1 week in advance of every  training course, we will be hosting an on-boarding & familiarisation virtual training session with all Participants.
This advance session will recap on the key learning outcomes from the online modules completed & ensure every Participant is comfortable and familiar with the software and tools that we will use during the virtual training.
For any Participant that is experiencing any issues, these can be identified & support will be available both before and during any virtual training course.
This was my first experience with blended learning. I am new to Auditing and I had limited experience it that area. I had basic knowledge of ISO 13485 before I started the course. I completed the Internal Auditor Training Course and thanks to Comply Guru I now have a Certificate in Internal Auditing.

Susan Mullen | November 26, 2020

Raquel Boularot | November 26, 2020

I enjoyed the blended learning course. The online modules gave a great introduction to the course and help setup the mind frame for an internal auditor. When moving to the classroom a good recap was completed and exercises in each of the areas were completed. A enjoyable interactive learning experience.

Marguerite Ryan | November 26, 2020

I thought the training with Comply Guru was great We learnt a lot through the online modules and the intensive day course. The organization of the course was thorough and dynamic and our course instructor was personal knowledgeable and helpful. Would definitely look for Comply Guru for any future training courses we need.

Ashley Sekulich | October 6, 2020

The interactive classes and practical learning were excellent.

Estela Hardisty | October 1, 2020

Comply Guru are a very helpful positive and professional company. They are very quick to respond to any query and provide very good material layout and support throughout the course. Breda is an excellent instructor with a depth of knowledges she generously shares with all. Tough taskmaster good at role playing and all combined with sense of humour which contributes to the fun of learning. Very enjoyable form of learning and I would highly recommend.

Gerry McNamara | September 29, 2020

I found this course great Breda was great and the training was amazing.

Jade Dalton | September 29, 2020

Overall an excellent belended course that gave me the foundational basis and practical knowledge to build on my internal auditing experience.

Heather Ryan | September 14, 2020

Absolutely brilliant effective training.

Sarah Jane O'Farrell | September 10, 2020

The course was excellent. I have participated in a lot of training courses and this one was very well led with good support and knowledge from the tutor.

Tim Cully | September 10, 2020

Overall this course was brilliant. with it being a blended course the first part focused on building your background knowledge at your own pace and the online classroom based course was really interactive and got you thinking.

Liona Carroll Crowley | September 10, 2020

Excellent approach to training. I found that the blended learning approach suited me having both parts separate meant that the training was balanced well between theory and practical application. Great support from the instructor and all at comply guru in the lead up and during the course.

Jacinta Kilmartin | September 10, 2020

Breda was a great trainer and was able to explain any questions we had very simply and in a way that we could easily understand.

Emma O'Brien | September 10, 2020

The overall training was very professional and knowledgeable. The role play exercises were beneficial as they provided a real life experience

Aisling Hassett | September 10, 2020

Thanks to Breda specially and the team her knowledge and interaction and support during the course its been fantastic

Alicia Baldonedo | September 10, 2020

The Course was very well prepared and I really enjoyed it.

Karolina Cygan | July 28, 2020

The content of course was comprehensive and well structured. The online modules were self-paced and being accessible at any time was handy. The classroom portion of the course delivered virtually via Zoom worked well the tutor had an in-depth knowledge of the auditing process and was able to give real life examples from her own auditing experience. Feedback on the assessments was constructive and useful the additional class giving an overview of the individual clauses of ISO13485 prior to the classroom day was beneficial.

Stephen Byrne | July 24, 2020

understanding of the ISO 134852016 and good knowledge on how to prepare and conduct an Internal Audits. The one day course via Zoom was in a group based environment with a very competent tutor. The assessments provide a good feeling of how an internal audit as an Auditor would look like. All in all an extremely good experience and I am looking forward to do more courses with Comply Guru.

Miriam Heinlein | July 23, 2020

Celine Heslin | July 22, 2020

Mark Tarmey | July 22, 2020

Good mix of classroom based and online learning exercises. Tutor was very helpful and knowledgeable

Mandy Holmes | July 22, 2020
In order to successfully complete this blended course, each Learner will need to:
Complete the online course (self-paced) and obtain 70% or higher in the final assessment (part 1 of 2)
Fully attend the virtual classroom element and obtain 70% or higher in the continuous assessment (part 2 of 2)
Breda Kearney

Breda leads the design of Comply Guru's internationally accredited CQI & IRCA Certified Online & Blended Training Programs.

John Collins

John has over 20 years' experience as a Quality Professional & is a specialist in Quality Management Systems.

Shane Curran

Shane is a specialist in Management Systems & has been working with international ISO standards and a myriad of management systems for well over 15 years.
What each Learner should know
before

completing this course:

CQI & IRCA recommend that each Learner have the following prior knowledge before completing this course:
Management Systems
The Plan, Do, Check, Act (PDCA) Cycle
The core elements of a management system and the interrelationship between top management responsibility, policy, objectives, planning, implementation, measurement, review and continual improvement.
ISO 13485
Knowledge of the requirements of ISO 13485 and the commonly used quality management terms and definitions
Knowledge of the requirements is a key pre-requisite in attending this course as without a good understanding, the course may be very challenging.
Fluency in spoken and written English
For participants whose first language is

not

English, we recommend a minimum English language competency of IELTS 5.5 (or equivalent) for successful completion of the program. This is not assessed by Comply Guru in advance & each participant must self-assess their competency.
Printed Copy of ISO 13485:2016
Each participant should bring a printed clean copy of the standard with them to the course. This is

not

provided by Comply Guru.
Important Note:
The Learners understanding of the prior knowledge requirements will be tested as part of the course assessments.
E-Learning System Requirements
The below are the recommended requirements for each Learner in wishing to complete any of our online training courses or modules. In our experience, Workplace IT environments' internal configurations and available software can vary (new or old), and there may be various limitations or other restrictions in place, and as such, the functionality of any Learning Management System (LMS)  may be impacted, restricted and may not perform well.
Recommended Operating Systems
Windows 7/10, Mac OSX Sierra, iPad IOS10
Mobile Devices
Comply Guru's LMS is not available on a mobile app at this time. We recommend using a web browser on a mobile device in completing any online modules. However, if completing any final graded assessment, we recommend completing via a desktop browser.
Internet Speed
We recommend using an internet connection of 256Kbit/sec or faster that will ensure that you can view videos and the online content
Recommended Internet Browsers
Google Chrome 32 bit version 50 or later
Safari 10 or later
Important Note:
add-ons and toolbars can affect any browsers performance. MS Internet Explorer or Edge are
not recommended
as its not compatible with the LMS and the course functionality will not work properly.
Recommended Settings
We recommend that the following settings are enabled:
Cookies
Pop-ups (in both Internet Browser and security software)
JavaScript
Plugins
Latest Version of Adobe Flash Player
Latest Version of Adobe Acrobat Reader
To view all resources made available within our LMS, you will probably need Microsoft Office (Word, Excel, PowerPoint) or an equivalent (i.e Open Office, Viewer) installed.
Technology Requirements for Virtual Training
To participate in the virtual training sessions, you will need:
Laptop or desktop computer (Note: A tablet or mobile device is not suitable for this training)
Webcam – Built-in or USB plug-in
Speakers and a microphone – Built-in or USB plug-in. We strongly recommend a headset if you have this available
Internet connection – Minimum of 1.0Mbps
Some Companies that have used Comply Guru™
The Numbers - How We Are Doing
100%

Our Pass Rate

100%

Would

Recommend Comply Guru

99%

Gave us 4/5 Stars or

higher Overall Training Experience

95%

Would

Recommend Online or Blended Training

over Classroom Training
Want to learn more? Get in touch.
Would you like to know more about our service? We have a dedicated sales team who would be happy to answer any questions that you may have.