NEW! Online Quality & ISO 9001:2015 Training Subscription
Overview
At Comply Guru, we believe that we are offering you the future of compliance training with high quality, innovative subscription-based training service which offers each Learner access to a complete suite of ISO 9001:2015 & Related training courses to assist them achieve all their learning objectives under a single, affordable subscription.
Whether you are an existing ISO 9001:2015 Certified Company or seeking ISO 9001:2015 Certification in the future, access to flexible, affordable and convenient training is really important & we believe that this subscription can be an invaluable asset to you or your organization.
This exclusive subscription service is available today for the great price of $1,195/User/Year!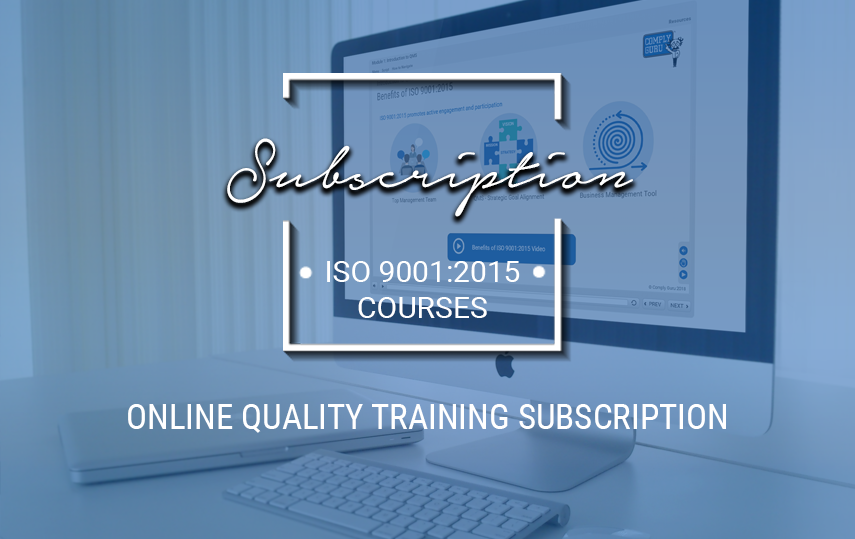 A World-First Online Quality Training Subscription
Welcome to the future of Quality Training! Now available is a world-first online quality training subscription service giving each Subscriber access to a library of online ISO 9001:2015 & related courses under a single, affordable subscription. Sign up today!
Why Buy a Subscription?
All Courses, One Subscription

This revolutionary new service gives each Subscriber access to ALL online courses under a single, affordable subscription.

Huge Savings, Reduced Costs

Say goodbye to travel expenses! Completing training in a classroom can be very expensive. This subscription offers each Subscriber HUGE savings on training costs and travel expenses.

Access Anywhere, Anytime (24/7/365)

Online courses can be completed anywhere and by anyone, at a time that suits them best, from the same devices you use every day.
Want to learn more? Get in touch.
Would you like to know more about our service? We have a dedicated sales team who would be happy to answer any questions that you may have.