Blended ISO 13485:2016 Lead Auditor Training (CQI & IRCA Certified)
★★★★★
Overview
This CQI & IRCA Certified blended course (online & classroom) is ideal for anyone that has a good understanding of Quality Management Systems (QMS) and the requirements of ISO 13485:2016 and wants to gain the knowledge and skills required to perform first, second and third-party audits of QMS against ISO 13485:2016, in accordance with ISO 19011:2018 and ISO/IEC 17021-1:2015
Did you know? This course is delivered both online & in a classroom. Each learner must complete an 16hr online training course before attending a classroom-based 2.5-day skills-based training session. The major benefit to this approach is that it offers each Learner the flexibility to learn at their own pace and reduce the overall time spent in a classroom!
Try our free, online ISO 13485:2016 demo course today to see if our training is for you!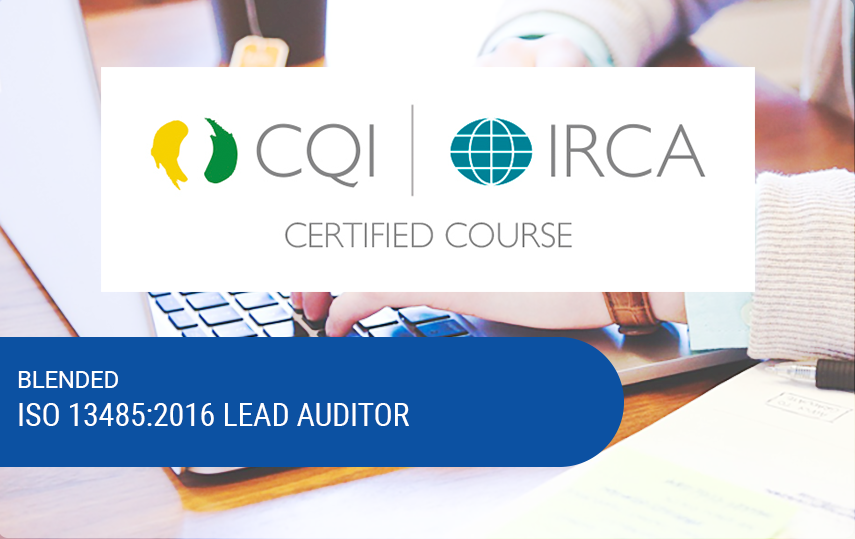 Some Companies that have used Comply Guru™
The Numbers - How We Are Doing
100%

Our Pass Rate

100%

Would

Recommend Comply Guru

99%

Gave us 4/5 Stars or

higher Overall Training Experience

95%

Would

Recommend Online or Blended Training

over Classroom Training
This course is CQI & IRCA Certified (Course No. 2244)!
Spend 50% Less Time in the Classroom! Book Your Place Today!
| Start Date | Location | Cost | Duration | Onsite |
| --- | --- | --- | --- | --- |
| Anytime | Anywhere | | 16 Hours (Online) + 2.5 Days (Classroom) | |
Part 1 = Modules 0 - 7 (Online)

In order to attend this training, each Learner must successfully complete the Online ISO 13485:2016 Lead Auditor Knowledge & Theory Course (20hrs) which consists of 7 modules (online).

Module 8 - Course Introduction (Classroom)

In this module, an introduction to the classroom element of the blended course will be provided. This includes important information regarding the course content & learning objectives, duration, assessment methodology & training delivery.

Module 9 - Planning the Audit (Classroom)

In this module we will explore the key steps that are required to plan the audit using a risk-based approach. We will also conduct a document review in preparation for the audit and practice the skills required to prepare the necessary documents for the audit including the audit checklist.

Module 10 - Conducting the Audit (Classroom)

In this module we will practice the skills required to effectively conduct an audit using a sample QMS case study. A variety of audit methods will be practiced during this session including interview, document review and data analysis.

Module 11 - Generating Audit Findings and Closing Meeting (Classroom)

In this module we will practice the skills required to write and grade non-conformities and determine audit conclusions. We will also practice the skills required to conduct a closing meeting

Module 13 - Audit Report and Follow Up Activities (Classroom)

In this module we will practice the skills required to prepare the audit report and to evaluate audit responses including differentiating between a correction and corrective action.
This course is certified by CQI-IRCA (Course No. 2244).
In order to successfully complete this blended course, each Learner will need to:
Before The Classroom Modules
Complete the online course modules and obtain 70% or higher in the final assessment (2 Online MCQ-based Assessments) by the required deadline set in advance of the given classroom dates you are registered for
During The Classroom Modules
Fully attend the classroom element as 100% attendance is required
Obtain 70% or higher in the course continuous assessment during the classroom element
Obtain 70% or higher in a 2-hour CQI & IRCA set final examination
Successful completion will entitle each Learner to receive a CQI & IRCA Accredited Certificate of Achievement.
What each Learner should know
before

completing this course:

CQI & IRCA recommend that each Learner have the following prior knowledge before completing this course:
Management Systems
The Plan, Do, Check, Act (PDCA) Cycle
The core elements of a management system and the interrelationship between top management responsibility, policy, objectives, planning, implementation, measurement, review and continual improvement.
ISO 13485
Knowledge of the requirements of ISO 13485 and the commonly used quality management terms and definitions
Knowledge of the requirements is a key pre-requisite in attending this course as without a good understanding, the course & final examination may be very challenging.
Fluency in spoken and written English
For participants whose first language is

not

English, we recommend a minimum English language competency of IELTS 5.5 (or equivalent) for successful completion of the program. This is not assessed by Comply Guru in advance & each participant must self-assess their competency.
Printed Copy of ISO 13485:2016
Each participant should bring a printed clean copy of the standard with them to the course. This is

not

provided by Comply Guru.
Important Note:
The Learners understanding of the prior knowledge requirements will be tested as part of the course assessments.
E-Learning System Requirements
The below are the recommended requirements for each Learner in wishing to complete any of our online training courses or modules. In our experience, Workplace IT environments' internal configurations and available software can vary (new or old), and there may be various limitations or other restrictions in place, and as such, the functionality of any Learning Management System (LMS)  may be impacted, restricted and may not perform well.
Recommended Operating Systems
Windows 7/10, Mac OSX Sierra, iPad IOS10
Mobile Devices
Comply Guru's LMS is not available on a mobile app at this time. We recommend using a web browser on a mobile device in completing any online modules. However, if completing any final graded assessment, we recommend completing via a desktop browser.
Internet Speed
We recommend using an internet connection of 256Kbit/sec or faster that will ensure that you can view videos and the online content
Recommended Internet Browsers
Google Chrome 32 bit version 50 or later
Safari 10 or later
Note: add-ons and toolbars can affect any browsers performance. MS Internet Explorer is
not
recommended.
Recommended Settings
We recommend that the following settings are enabled:
Cookies
Pop-ups (in both Internet Browser and security software)
JavaScript
Plugins
Latest Version of Adobe Flash Player
Latest Version of Adobe Acrobat Reader
To view all resources made available within our LMS, you will probably need Microsoft Office (Word, Excel, PowerPoint) or an equivalent (i.e Open Office, Viewer) installed.
Want to learn more? Get in touch.
Would you like to know more about our service? We have a dedicated sales team who would be happy to answer any questions that you may have.