ISO 13485:2016 Insight: Medical Device File
by Breda Kearney | July 18, 2019 | Blog , ISO 13485 , Medical Devices , |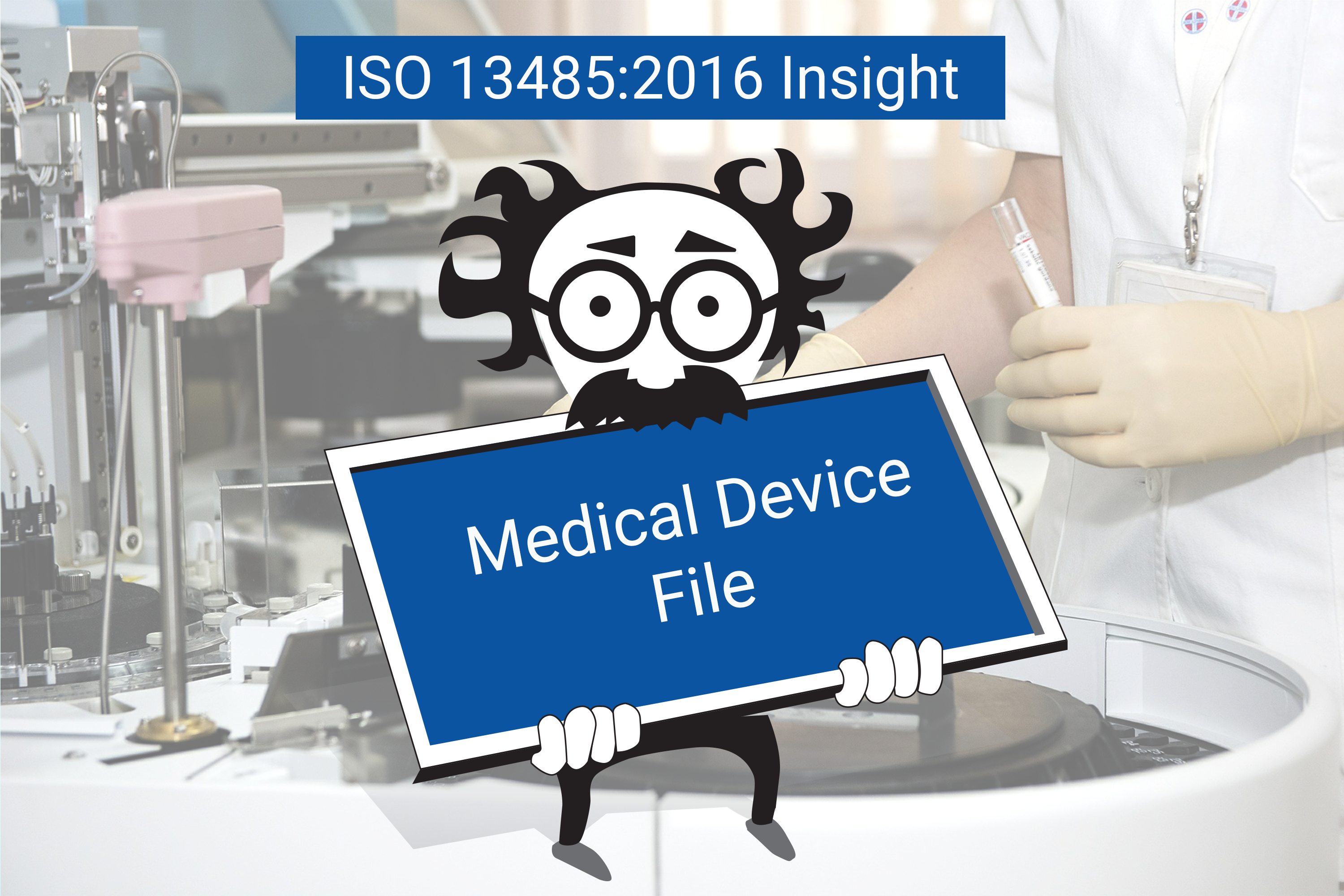 ISO 13485:2016 requires the organization to establish and maintain a medical device file for each medical device type or family.  The purpose of the medical device file is to demonstrate conformity to the requirements of ISO 13485:2016 and compliance with applicable statutory/regulatory requirements.
At a minimum, each medical device file must include the following:
Description of the medical device, intended use/purpose and labelling, including any instructions for use
Product specifications including but not limited to: Product descriptions, Drawings, Functional specifications, Raw material specifications, Bill of materials, List of parts and approved suppliers, Component specifications, Software specifications
Process specifications or procedures including but not limited to: Instructions for preservation, storage, identification and traceability, Production methods/work instructions, Assembly plans, Cleanliness and sterilization processes, Resources requirements – equipment, machinery and tool specifications, Training plans and competency criteria, Environmental specifications, Packaging requirements and instructions, Release activities and associated acceptance criteria, Risk controls
Measuring and monitoring procedures: Validation and verification, Quality assurance, Test instructions, Instructions for operating monitoring and measuring equipment
Requirements for installation, if applicable: Instructional information on how to install the medical device, Installation checklists, Verification specifications, Training/competence requirements, Acceptance criteria and release procedures
Requirements for servicing, if applicable: Specification for service activities which can include service plans, service programs, maintenance plans, checklists, protocols and training/competence requirements
The medical device file includes documents and records from many different sources. To avoid duplication and to ensure that the contents of the file are up to date, an option is to manage each medical device file as a table of contents with links or references to the location of the source documents in the QMS.
FDA 21 CFR 820.181 Device Master Record (DMR) v ISO 13485:2016 Medical Device File (MDF)
Both the DMR and MDF are very similar in so far as they both require documented procedures and records outlining the process for building the medical device. For medical device companies that are FDA registered and ISO 13485:2016 certified, it is possible to create a single DMR/MDF file which encompasses both sets of requirements – as mentioned, for ease of use and maintenance, it is recommended to use a table of contents format.
If you would like to learn more about ISO 13485:2016, Comply Guru offer a Free Introduction to ISO 13485:2016 Training Course that can be completed anytime, anywhere! Why not give it a try?
Comply Guru Blog
Read interesting stories, insights and updates from Comply Guru
Recent Post
Categories
Subscribe to Our Newsletter