FSSC 22000 Releases Version 5 of its Certification Scheme
by Breda Kearney | June 4, 2019 | Food Safety , FSSC 22000 , ISO 22000:2018 , Version 5 , |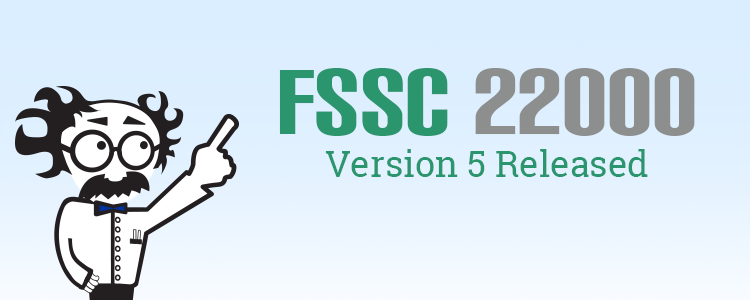 Close to 20,000 food companies in over 150 countries are certified to the Global Food Safety Initiative (GFSI) recognized food safety scheme FSSC 22000.
The scheme consists of 3 elements: ISO 22000, Industry specific Pre-Requisite Programs (PRPs) and additional FSSC 22000 requirements. ISO 22000 is the main element of FSSC 22000, and due to the replacement of ISO 22000:2005 with ISO 22000:2018 in June of last year, the FSSC 22000 scheme had to undergo a review process to align with the new version of the ISO standard and this resulted in the publication of Version 5.  We will now review the impact of Version 5 on each of the scheme elements:
ISO 22000
The alignment of the scheme to ISO 22000:2018 is undoubtedly the biggest impact of the revision as this requires certified food companies to update their ISO 22000:2005 based food safety management systems to align with the new ISO standard requirements.  ISO 22000:2018 has adopted the High-Level Structure (HLS) allowing for easier integration of the food safety management system (FSMS) with other schemes such as ISO 9001 (Quality), ISO 14001 (Environmental) and ISO 45001 (Occupational Health and Safety). A key principle of the HLS is the adoption of risk-based thinking: ISO 22000:2018 distinguishes between the management of food safety risks through the use of HACCP and organizational level risks and opportunities. ISO 22000:2018 also requires the organization to implement the Plan-Do-Check-Act (PDCA) continual improvement model not only in relation to its operations but also to the organization as a whole. Finally, ISO 22000:2018 requires the organization to take a more holistic view of its business by analysing the environment in which it operates and also considering the requirements of relevant interested parties.
Industry sector PRPs
The application of Industry specific PRPs as specified in ISO/TS 22002-x series, NEN/NTS 8059 and/or BSI/PAS 221 remains a mandatory requirement of FSSC 22000 V5 in accordance with ISO 22000:2018 Clause 8.2
Additional FSSC 22000 requirements
The additional FSSC 22000 specific requirements of Version 5 are similar to the requirements specified in the previous version (Version 4.1) and where relevant the scheme has referenced the associated requirements of ISO 22000:2018: Food companies are still required to address food defense, food fraud and implement an allergen management plan and a risk based environmental monitoring program. In addition to ISO 22000:2018 Clause 7.1.6 which outlines the requirements for the control of external providers, food companies must ensure that if used, laboratories are competent to perform food safety testing, and finally in addition to ISO 22000:2018 Clause 8.5.1.3, products must be labelled in accordance with applicable food safety legislation.
Certification audits against FSSC 22000 Version 5 are due to commence January 1st 2020, and therefore over the new few months all certified companies must take the steps required to update their food safety management systems to align with the new scheme requirements.
To find out more about ISO 22000:2018, Check out our Free Online Introduction to ISO 22000:2018 Course which is designed to provide a high-level overview of the standard.
Comply Guru Blog
Read interesting stories, insights and updates from Comply Guru
Recent Post
Categories
Subscribe to Our Newsletter