BIG ANNOUNCEMENT! CQI & IRCA approve our Blended ISO 9001:2015 Lead Auditor Course
by Eoin Philip Kelly | August 2, 2019 | Blended ISO Training , Blog , ISO 9001:2015 , Online ISO Training , |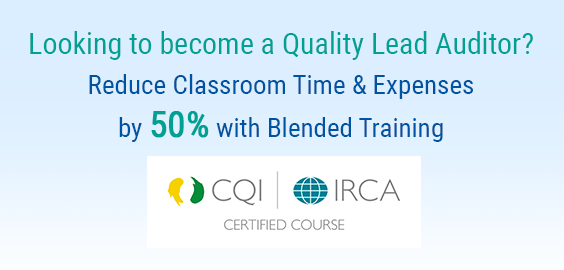 BIG FRIDAY ANNOUNCEMENT! We have just received formal confirmation from the Chartered Quality Institute & International Registrar of Certificated Auditors (CQI & IRCA) that they have formally approved our Blended Quality (based on ISO 9001:2015) Lead Auditor Training Course!
What's the big deal?
Well, our blended lead auditor course TRANSFORMS a traditional 5-day classroom-based training course offered by all our competitors in Ireland into a "blended" course with 16 hours completed online (self-paced on your own schedule) followed by JUST 2.5 days in the classroom with an expert instructor – the best of both worlds! That is a reduction of 50%!
The reviewing officer even commented that it was the best blended course that they had seen yet!
This really is a GAME CHANGER for those looking to become Quality Lead Auditors by offering:
50% reduction in time lost in the classroom – for those with busy personal or work lives – this is a major plus & win:win!
Big Reduction in expenses travel & potential accommodation costs compared to attending a 5-day training event
More Flexibility to complete your training anytime, anywhere – on your own schedule, and at your own pace!
More Convenience – get the training you need when it suits you!
Our training meets the highest standards in design & learning effectiveness and why we are proud to have this verified by obtaining CQI & IRCA approval – an internationally recognized body
What a great way to head into the long weekend…a big mention must go to Breda Kearney for all her hard work on achieving this monumental achievement for #complyguru
For more information visit our course page here, or why not get in touch by calling us today or sending us an email to training@complyguru.com 
Comply Guru Blog
Read interesting stories, insights and updates from Comply Guru
Recent Post
Categories
Subscribe to Our Newsletter